San Diego is a city on California's Pacific coast famed for its beaches, parks, and mild temperature. The sprawling Balboa Park is home to the world-famous San Diego Zoo, as well as other art galleries, artist studios, museums, and gardens. A huge operational naval fleet is housed in a deep port, with the USS Midway, an aircraft carrier-turned-museum, open to the public.
When visiting San Diego for the first time, it might be extremely intimidating, especially with so many things to do. Choosing where to go and what to do can be time-consuming, which is where this article comes in. The eight top activities in San Diego are listed here – things you must see and do.
1. Going to the beach
The beach personifies the full San Diego lifestyle, no matter what season you visit. The beach is where the action is, whether you're watching the tide come in or soaking up the rays. Make sure to see the beaches here, from Mission Beach to the Belmont Park rollercoaster.
2. Taste a fish taco
Although it may sound strange, the fish taco is one of San Diego's best dishes. Deep-fried, battered fish wrapped in a corn tortilla is one of those delicacies that, once tried, you'll crave whenever you return!
3. Go for a Trolley trip
San Diego may not have the best public transportation system, but it does have the well-known Trolley. The San Diego Trolley is a light rail system that serves the San Diego metropolitan region. It's dubbed "The Trolley" by locals. The freeways in this area can be pretty daunting, so taking the Trolley is the best option. If you want to learn more about the city, simply purchase an all-day trolley pass – you'll see more of San Diego than you ever imagined possible this way.
4. Pay a visit to the Pandas
While Sea World and Legoland have their fair amount of animals, the San Diego Zoo has its fair share of Pandas. The zoo is a popular tourist destination. It houses 4,000 animals of more than 650 species and subspecies on 100 acres of Balboa Park. When visiting the San Diego Zoo, go early in the morning to see the pandas.
5. Balboa Park
After seeing the pandas, visit the city's crown jewel, Balboa Park. No matter when you visit, the atmosphere is magnificent. However, if you visit on Tuesdays, you will find that most museums provide a free entrance. Dine at the Prado Restaurant and enjoy wonderful meals in a beautiful location.
6. The Old Town
While old San Diego isn't always visible, a visit to the Old Town State Historic Park will transport you back in time. There are traces of Old San Diego everywhere you look in this part of the city. Although there are several outstanding restaurants in the area, the Old Town Mexican Cafe delivers the best Mexican food in San Diego.
7. The Gaslamp Quarter and its Nightlife
The Gaslamp Quarter in downtown San Diego is the place to go if you want to dance, eat, or just watch people. You can enjoy the finest of San Diego living here, with meals to suit every taste.
8. Traveling to Mexico
It's no secret that San Diego borders Mexico, with Tijuana serving as its metropolis. Despite what you may have heard, visiting Tijuana or Baja Mexico at any time of day or night is quite secure. Remember that they have their own rules, bring your passport, and then enjoy everything that this exotic paradise has to offer.
Other Attractions
Belmont Park
Belmont Park is one of the top amusement parks in the area. This Park offers something for everyone, with plenty of activities for the entire family. Belmont Park is a thrilling journey for the whole family, with rides for everyone and everything in between.
The Giant Dipper Roller Coaster is the park's most striking feature. The coaster was erected in 1925 and has since been restored. This coaster is truly unique, with its fast drops, high hills, and tremendous speed!
Belmont Park in San Diego also has a continuous wave that is ideal for wave surfers. The Flowrider provides hourly rides as well as basic lessons. If waves aren't your thing, you could enjoy the raceway bumper cars or the Chaos. Chaos is similar to a Ferris wheel, but it produces a random three-dimensional rocking and rolling. No two rides are ever the same when you go on it!
Arcade fans have a wide choice with LazerBlast and Midway Games. This results in the ideal gaming experience, keeping children, teenagers, and even adults entertained for hours on end.
Other rides at the Park include Liberty Carousel, Control Freak, Zero Gravity, and Krazy Kars. The Plunge Pool is a great attraction and happens to be the largest indoor heated pool in San Diego. Perfect for swimming, diving, or just enjoying yourself, the plunge is a blast.
To feel the sensation, the Dip & Dive and Overdrive Bumper Cars can help you. To truly test your limits, the Rock Wall will offer a unique challenge. Anyone wanting to give it a try, can get to climbing the wall and see if they truly have what it takes to get to the top.
When you've had your fill of rides, there's plenty more entertainment and activities to keep you entertained. There is always something going on in Belmont Park. With San Diego being a tourist destination, you can know the entertainment in Belmont Park will be nothing short of outstanding.
Belmont Park provides amazing prices for birthday parties and special parties for children. If you wish to throw a party here, you may rent out a section of the park. This might be a genuinely unforgettable memory for children.
Make sure you do some shopping and eat some of the food to finish off your fun. Belmont Park in San Diego boasts excellent dining and shopping, providing numerous reasons to visit the park and be delighted – truly amazed.
Belmont Park is open every day. Weekly hours vary, so please check the calendar on their website and below and plan your visit! You can also download a map of attractions there to ease your visit.
Whale Watching in San Diego
Nobody can deny that the San Diego shoreline is an excellent location for viewing the gray whale's annual journey. The migration of gray whales is regarded as one of nature's ultimate exhibitions, and it is nothing short of astounding. The San Diego shoreline is one of their migratory stops as they go from the Arctic waters to the warmer portions of the Baja (California), where females also give birth.
Every year, over 26,000 gray whales travel over 10,000 miles from the Arctic to Baja and back. If you compare this travel to any other mammal, you'll discover that the gray whale has by far the longest.
If you've never gone whale watching, you'll be glad to know that everyone, young or old, would enjoy it. Spotting a gray whale along the coast is a genuinely remarkable experience, making you take a moment to admire these magnificent creatures.
Gray whales are most regularly observed from December to March, according to the Birch Aquarium in San Diego. While they generally move in groups of dozens, it's not uncommon to encounter pods of two or three as they migrate. Because these whales are slow swimmers, they can be seen all along the San Diego coast.
Normally, they will dive to a depth of 100 feet or more for a few minutes, then surface and blow. They'll then do a few small dives before returning to the deep dive. When it comes to whale watching, understanding this pattern makes the experience much more enjoyable and exciting.
While there are numerous venues to see whales, nothing beats the thrill of seeing them from the comfort of a cruise ship. There are numerous cruises that depart from San Diego, many of which offer incredible discounts.
Cruises are some of the best ways to witness the beauty and tranquillity of the migratory gray whales, from H&M Landing to the Birch Aquarium.
Gray whales can be viewed from several sites around the San Diego coast, including the Cabrillo National Monument on Point Loma and the Torrey Pines State Beach bluffs. The whales can be seen as they migrate along these points.
Whale watching in San Diego is something you have to witness to appreciate, whether on a cruise or from the coast. You can bring your children, relatives, or even friends. Whale watching may be an exciting experience; all you have to do is arrange your day and appreciate everything that the beauty of the gray whale has to offer.
Pacific Beach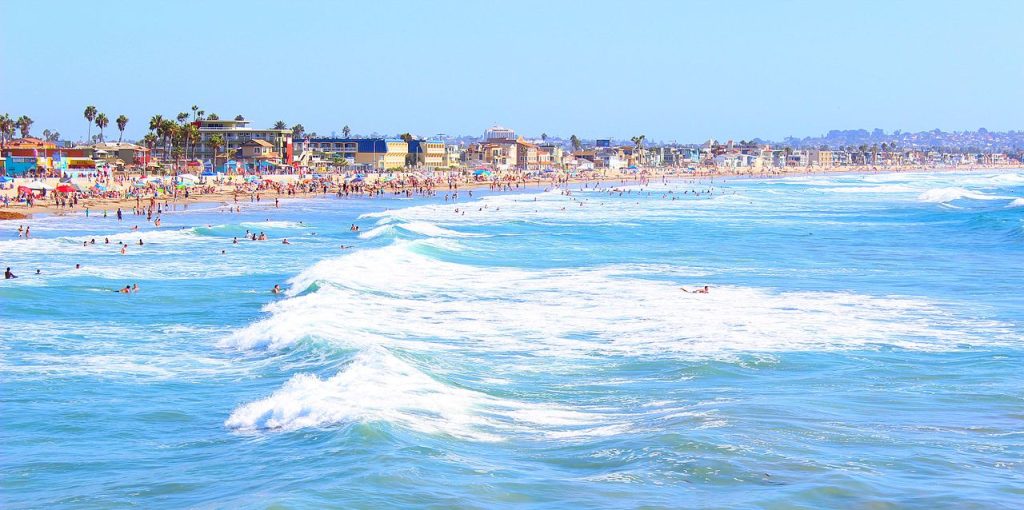 Pacific Beach is a fantastic location, alive with the sea and plenty of activities. Pacific Beach experiences several million visitors every year because of its abundance of attractions! You can't go wrong with a stop here.
Aside from the beach's attractions, the boutique shopping district of Pacific Beach offers hundreds of opportunities to uncover treasure in the sand. This is a shoppers' paradise, with local names like the L.A. Rack and Starbucks. This shopping paradise also has new and retail apparel stores, salons, and a variety of other shops.
Pacific Beach has everything when it comes to nightlife and fine eating. The dining experience here is as varied as the underwater life. Everything from fusion Thai to gourmet pasta, seafood to hamburgers, and much everything in between can be found here.
The Pacific Beach seems to come to life as the sun sets and the tide changes. There are dozens of nightlife hotspots featuring dancing, live music, and some of California's top beach bars. Pacific Beach helps to simplify your trip by having most within walking distance of the hotels.
The golden sands that California is famous for are arguably Pacific Beach's best feature. Both the beach and the Ocean Front Boardwalk are modest in their approach, offering bike and board rental establishments, beach-front cafes with beautiful views, and plenty of green spaces to enjoy.
In the summer, you can experience the excitement of horseshoes, dolphins playing in the sea, and endless surfing competitions on the sand. Summer is unquestionably hotter when you're lounging in the ocean at Pacific Beach with your toes in the sand.
With Mission Bay Park and the Historic Crystal Pier nearby, you'll never be bored. Mission Bay is a public park that includes the world-famous Sea World, as well as amusement park rides, undersea fauna, and excellent cuisine.
The Historic Crystal Pier, on the other hand, gives a reimagined flavor of Southern California. A walk along the pier may transport you back in time while also providing you with the lifestyle that only California can provide.
Pacific Beach, with a taste of the ocean and everything in between, makes for a fantastic and unforgettable summer. With the abundance of shops, good food, and California sand, this is one San Diego neighborhood that should be visited again and again!
La Jolla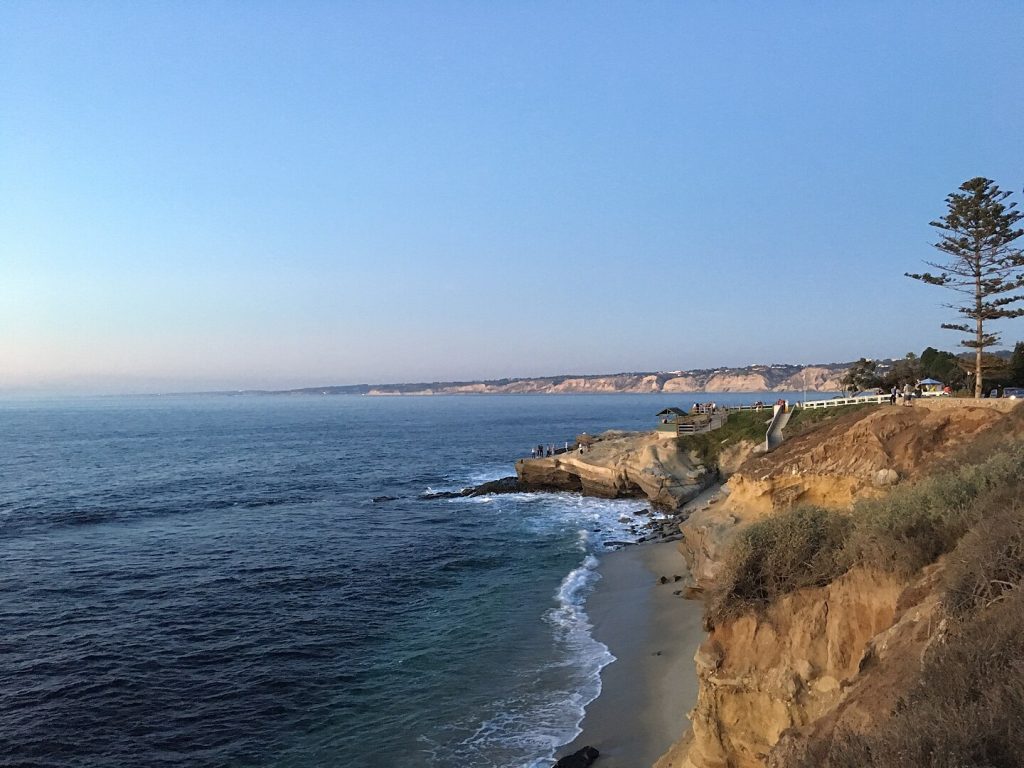 The La Jolla neighborhood is a shining jewel of San Diego, with multiple beaches spanning more than seven miles of shoreline set against an assortment of undulating hills known as Mount Soledad.
La Jolla is about 15 minutes from the downtown center. Along with stunning landscapes, the area is home to numerous good restaurants, art galleries, hotels and resorts, and other attractions like the Scripps Institution of Oceanography.
The Birch Aquarium, which is also located in La Jolla, allows you to explore the amazing world of sharks, living coral reefs, and many other undersea exhibits. This aquarium explores the ocean's wonders and the creatures that reside there.
La Jolla's coastline is made up of rocky headlands separated by picturesque bays and sandy beaches. There are numerous hotels and resorts located along the beach that are designed to make your stay more enjoyable.
North Pacific Beach spans from the Crystal Pier in Pacific Beach to La Jolla. Traveling north of this area will take you to the beaches of La Jolla.
Windandsea Beach can be found at the southern end of La Jolla Beach. Windandsea Beach has long been known as a surfer's paradise, but the steep beaches and rocky cliffs can be quite dangerous if you are not aware of them.
Casa is a neighborhood near downtown La Jolla that used to be a children's pool. Seals and sea lions have taken over the area in recent years. Although children are no longer permitted to swim here, lying on the beach and watching them play is a fun pastime.
The tide pools can be found along the La Jolla shoreline. These pools are beautiful to look at, but you should not touch them. You should go during low tide and wear rubber-soled shoes because they can get fairly slippery.
Although one of San Diego's lesser beaches, the cove near La Jolla is incredibly picturesque. Sandstone cliffs line either side of the cove. This contributes to the cove's lonely character.
Shores Beach is the broadest and longest beach in La Jolla. The Scripps Pier may be seen off in the distance on the beach. Throughout the summer, novice scuba classes are also given on the beach.
The beaches in La Jolla are among the greatest in San Diego, with lots to offer you and your family. There's a lot to do and see here, including dining and swimming. La Jolla appears to simplify the best of beach vacations.
Coronado Island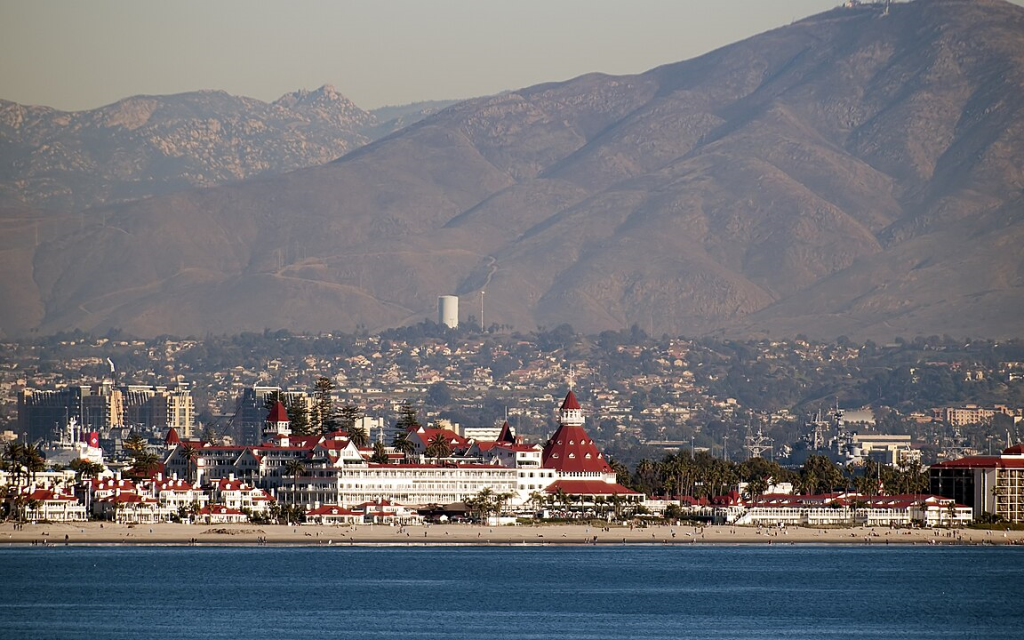 Everyone in California knows that Coronado Island has some of the nicest beaches in San Diego. Coronado is connected to downtown San Diego by the Island Bay Bridge and is home to the SEALs training center as well as the Naval Air Station Coronado. Coronado, a military powerhouse, always has something going on.
The world-famous Hotel Del Coronado is one of Coronado's outstanding features. This Victorian-style seaside hotel opened in 1888 and was easily one of the largest and best of its day. The hotel has previously entertained Marilyn Monroe and the Duke and Duchess of Windsor.
The Hotel Del Coronado offers some of the greatest services in California, as well as stunning views of San Diego. The restaurant is one of the best in the area, and even if you aren't staying here, you can enjoy a delicious lunch. Thousands of visitors visit Coronado each year solely to stay at this world-class hotel – yep, it's that wonderful.
The Ferry Landing is also an excellent addition to the offerings of Coronado Island. There are around 30 shops, restaurants, and art galleries at the Ferry Landing Marketplace. You can walk about and see what the marketplace has to offer, or you can go to Tidelands Park.
There are wonderful areas to walk and bike here, with spectacular views of San Diego's skyline. This is one of the nicest places to be at sunset. On Tuesdays, there is also a farmers market here.
Coronado Beach is also nearby, along the Travel Channel. The Best Weekend Getaway Beach is located north of the beach. Even in the summer, Coronado Beach isn't overcrowded, allowing your family plenty of space to enjoy one of California's best beaches.
A walking tour may be taken from the Glorietta Bay Inn in Coronado. Tours depart several times every week to show you everything the area has to offer. This is an excellent approach to becoming more acquainted with the area. You can also let someone else drive and take a pedicab tour if you like.
The Gondola Cruise relieves the stress of everyday life for lovers. A romantic spin along the canals of Coronado Cays might be a refreshing change of pace.
Coronado Island can be reached from San Diego by taking the Coronado Bay Bridge exit off I-5. From San Diego, take the Coronado Ferry, which runs hourly from 9 a.m. to 10 p.m. It takes about a mile to walk from the Ferry Landing to the Hotel Del Coronado.
SeaWorld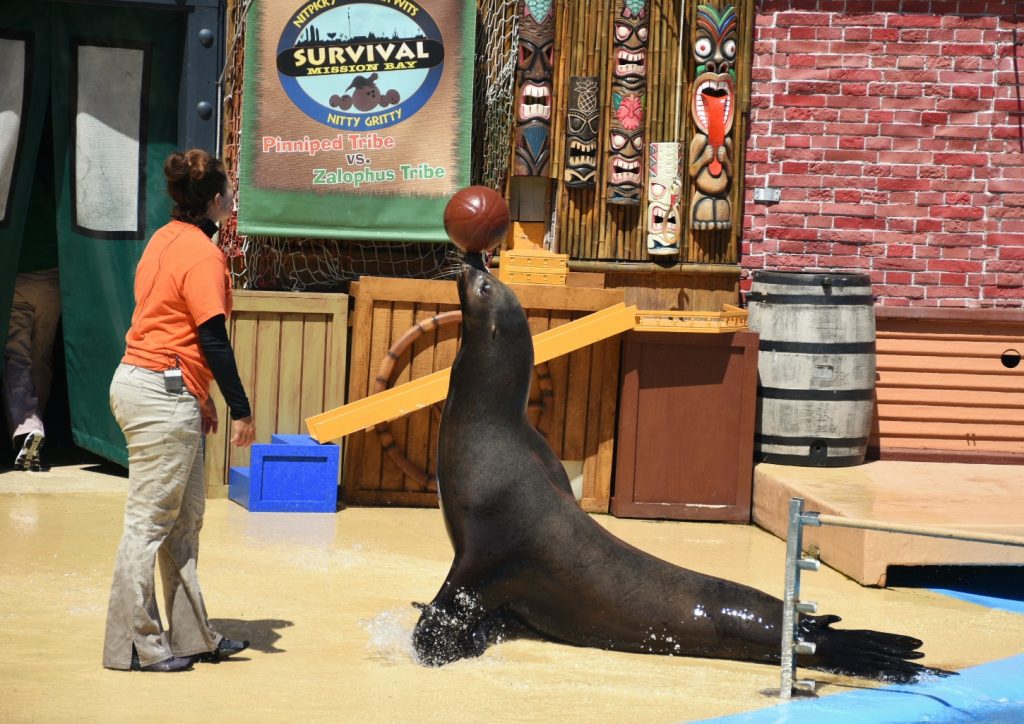 SeaWorld is one of San Diego's most popular and appealing attractions. SeaWorld is one of the most popular amusement parks, as well as one of the primary reasons for travelers. Anyone who visits San Diego intends, or should intend, to visit Sea World.
SeaWorld has a thrilling dolphin interaction program in which you may get in the water and interact with the dolphins. This is an excellent learning opportunity, particularly for people who are interested in dolphins. Dolphins are an important component of SeaWorld, as there are hundreds of them.
When you visit SeaWorld, you'll delve beneath the surface and see a life you never imagined possible. You may feed dolphins and other mammals, and even count a shark's teeth! When you examine all SeaWorld has to offer, no other entertainment park can compete.
On the entertainment front, SeaWorld has a haunted lighthouse as well as various other rides and performances. You can also acquire an all-day pass here, which is ideal for anyone who wants to experience everything that SeaWorld has to offer.
With underwater viewing, you can get up close and personal with orcas as you've never seen them before. This underwater viewing area outside Orca Encounter brings you up close and personal with orcas, allowing you to interact with these amazing animals. This one-of-a-kind event will leave your family with unforgettable memories as you witness these gorgeous animals swim, glide, and play in the water right in front of your eyes.
Whatever time of year you visit, you'll be glad to know that SeaWorld is open all year. It does, however, close on important holidays, which isn't necessarily a bad thing. If you don't go on a holiday, you can pretty much count on SeaWorld to be open.
SeaWorld in San Diego has something for everyone on a vacation. The kids will have lots to do while you explore items that interest you. SeaWorld's surrounding locations have a lot to offer as well, from dining to a variety of things to view.
When the time comes to take a trip, you should not overlook SeaWorld. It's in a fantastic location with lots of activities and sights to see. Sea World can show you, sea creatures, like you've never seen them before, which is reason enough to visit.
San Diego Zoo Safari Park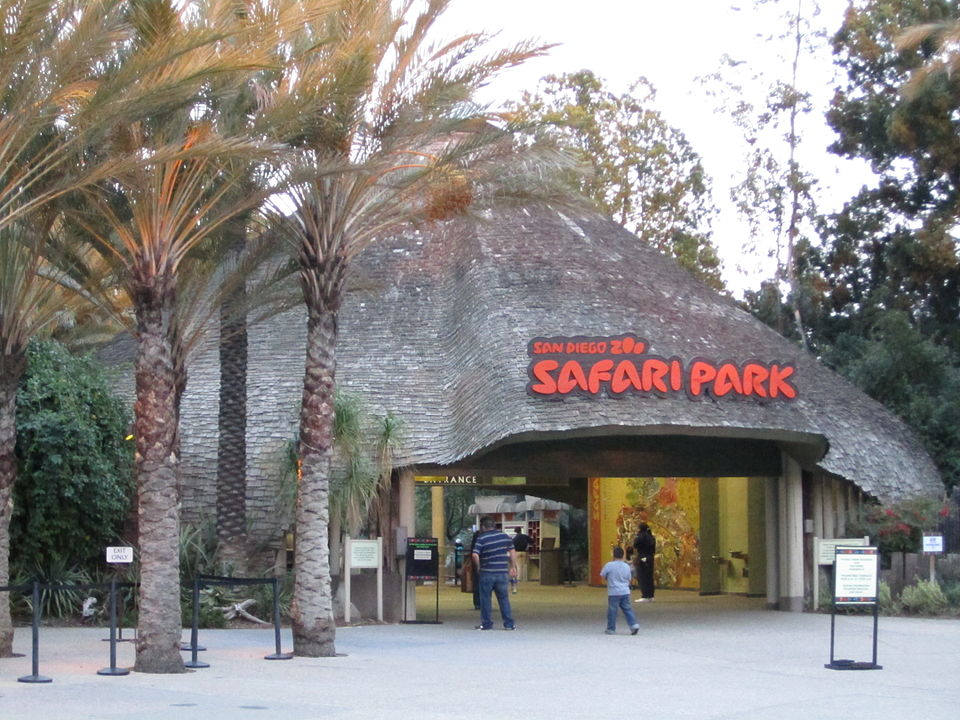 San Diego Zoo Safari Park (previously known as San Diego Wild Animal Park) is one of San Diego County's most popular tourist destinations. The park, which spans 1,800 acres in San Pasqual Valley, 32 miles north of Escondido, provides animals with ample space to roam and play. The animals here play much like they do in the wild, giving you the impression that you are in Africa or Asia.
Throughout the animal park's 50-year history, the Noah's Ark symbol of endangered species has grown to include dozens upon dozens of animals. Every Arabian Oryx found in the wild today is descended from the San Diego Wild Animal Park.
There are other trails through the park that you can take to visit the smaller animal exhibits. Although the smaller animals are interesting, the primary attraction is the hour-long ride on the Bush Line Railway. Along the railway, you'll witness animals that you'd never see otherwise, such as the white rhinoceros and other rhinos.
It's always a good idea to arrive early if you wish to visit the park during the summer. Ten to fifteen thousand people will visit the park on a typical summer day. During the winter, the ratio is lower with around 2,000 people generally visiting. Despite the fact that it is significantly colder in the winter, visitors to the park are less frequent.
When visiting in the summer, it's a good idea to walk for a while before taking the train. You can continue walking after you have used the railway for a short distance. It's also a good idea to bring plenty of sunscreens, as summer at the park may be rather hot. Water is also beneficial because summers in California may be extremely hot.
The San Diego Zoological Society manages the San Diego Wild Animal Park. The San Diego Zoo, one of the most popular animal parks in the world, is also maintained by the organization. The Society goes far above expectations with the park and zoo to bring you the best of watching animals.
The San Diego Zoo Safari Park is a terrific destination to visit the next time you're in San Diego or if you're visiting for the first time. You can view some extremely endangered species and learn more about the wildlife you'll encounter during this once-in-a-lifetime journey.
Old Town San Diego State Historic Park
The Old Town San Diego State Historic Park is a state-protected historical park in San Diego's Old Town area. It celebrates San Diego's early days and features many historic buildings dating from 1820 to 1870. The park is perfectly located and serves to replicate what was once San Diego, recreating life in both the early American and early Mexican periods. A journey to California isn't complete without a stop in Old Town, no matter how you look at it.
There are stores, a museum, and various restaurants located around the main complex's five adobes. La Casa de Estudillo, located in Old Town, is one of San Diego's oldest homes and one of the state's oldest surviving examples of Spanish architecture. It, like many other homes in the park, is a National Historic Landmark. A short distance away, the museum has relics that assist to reflect on the life that was once the Old Town.
The Old Town also features a blacksmith shop, a schoolhouse, and various other historic structures, including San Diego's first newspaper office. This is a must-see, especially for those interested in learning more about San Diego's past.
The city of San Diego was California's first Spanish settlement. This occurred in 1769 when a fort and mission were erected. California was just getting started in 1769, therefore it wasn't nearly the state or the size that it is today.
When visiting Old Town Park, make sure to stop by the Robinson-Rose House Visitor Center. This center has been rebuilt and currently displays a model of Old Town as it appeared in 1872. Joseph Toigo designed the model that is on display.
The Old Town Park also has artifacts from the past, programs, and even guided tours. A personal tour of the park with a guide who will take you around and explain things to you is available.
You can also enjoy a picnic at one of the picnic spots or purchase food from one of the many vendors while visiting the park. There are also supplies and facilities here.
The Old Town Park is located on San Diego Avenue and Twiggs Street in San Diego. Because it is so close to the city, visiting the Park is easier than you might imagine. If you live in the city but have never visited the park, you should do so.
On a vacation or a visit from out of town, Old Town San Diego provides a glimpse of the past. There's a lot to see here, as well as a lot of historical significance.
San Diego Bay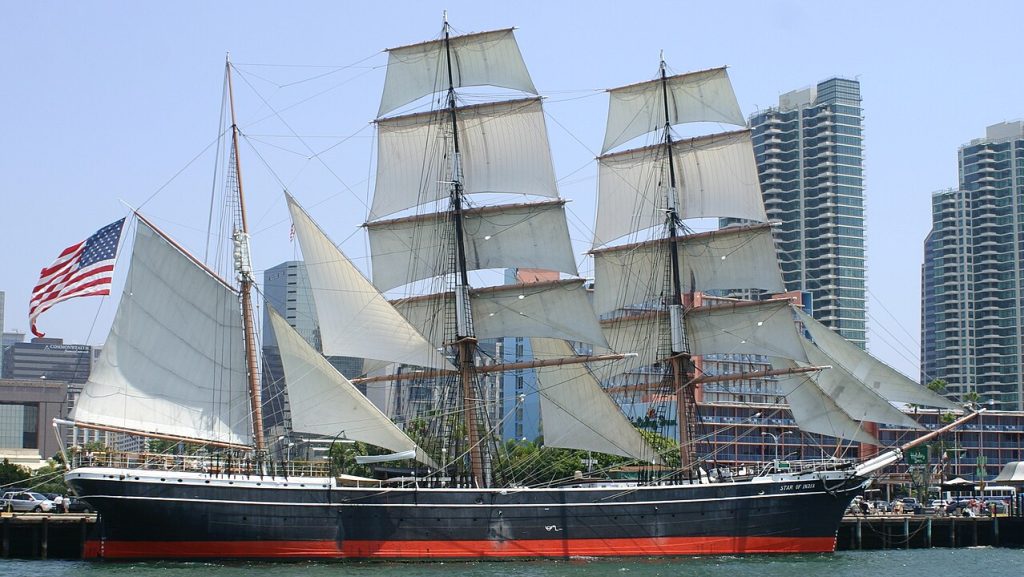 San Diego Bay is a natural harbor and deepwater port that measures 12 miles (19 kilometers) long and 1 to 3 miles (1.6 to 4.8 kilometers) wide. After San Francisco Bay and Humboldt Bay, it is the third largest of three huge, protected natural bays on California's 840 miles (1,350-km) coastline. It was colonized by Spain in 1769 and is regarded as one of the best natural harbors on the west coast of North America.
A simple walk around the San Diego waterfront does not do it credit! To appreciate the splendor of San Diego Harbor, take a cruise of the bay. San Diego Harbor Excursion, the bay's most recognized tour business, can assist you with this.
As a guest, you will be treated as if you were one of them, assisting in making your voyage a reality. The tour is divided into several sections to ensure that you get the most out of your time on the boat.
The North Bay Tour
You'll see the North Island Naval Air Station, Shelter Islands, and even the Naval Sub Base on your tour of the North Bay. If you look closely, you can also see the Cabrillo National Monument.
The North Bay trip is around 12 miles long and lasts about an hour. This is also an excellent trip for those interested in the Navy. The guides will explain everything to you as you go along on your trip. You'll always know what's going on this way.
The South Bay Tour
The South Bay tour includes the Star of India, the Naval surface fleet, the Coronado Bay Bridge, and the shipyards. This is a very busy and chaotic region, so a tour is a wonderful way to explore everything this area has to offer.
The South Bay trip is around 12 miles long and lasts about one hour. The guides will also explain things to you here, ensuring that you understand exactly what you are watching.
The Bay Tour
Those who want to see everything should take the deluxe tour of the entire bay. Anything of the North and South Bay tours is covered, as well as anything else the bay has to offer. The excursion is around 25 kilometers long and lasts approximately 2 hours.
You should really take this tour, during your next vacation in San Diego. It offers the unique opportunity to see everything of San Diego Bay and, thanks to professional tour guides who will describe anything to you, you won't miss a thing.